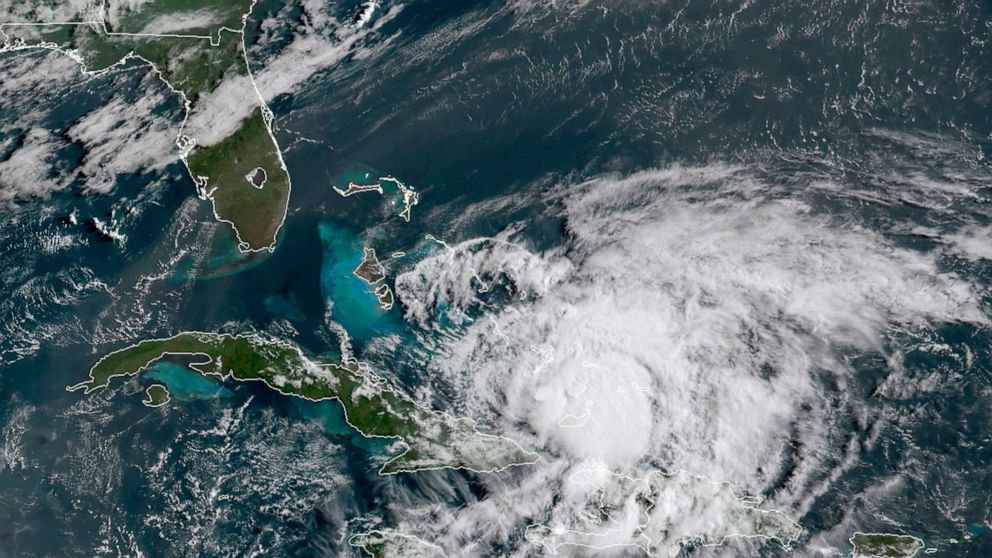 Hurricane Isaias heads to Florida.
Hurricane Isaias, a Category 1 storm, delivered torrential rains and high winds to the Bahamas Friday and is headed to Florida according to forecasters.
Forecasters predict the storm will travel northwest and arrive in southeast Florida on Saturday and Sunday.
Parts of the state could see two to four inches of rain with isolated maximum totals of six inches, according to the current forecast.
"These rainfall amounts could result in isolated flash and urban flooding, especially in low-lying and poorly drained areas," the National Hurricane Center said.
Florida Gov. Ron DeSantis announced Friday that he has declared a state of emergency in every coastal county on the east side of the state from Miami-Dade to Nassau Counties.
Virginia Gov. Ralph Northam also declared a state of emergency in advance of Hurricane Isaias, which is expected to impact parts of coastal Virginia starting on Monday.
Here is how the news is developing today. All times Eastern. Please refresh for the latest updates.
9:00 am: President approves Federal Disaster Declaration ahead of Isaias
During a press conference Saturday morning, Florida Gov. DeSantis said that the president signed a Federal Disaster Declaration in expectation of Hurricane Isaias.
On Friday, DeSantis signed an executive order for a state of emergency for every coastal Florida county on the East Coast yesterday.
Twelve Floria counties have declared a state of emergency. The Division of Emergency Management is sending 25 shelter kits with PPE to counties in the path of the storm. Each kit provides PPE for up to 400 people for 96 hours, the governor said.
"The State of Florida is fully prepared for this," DeSantis said and that his administration has been in contact with local area hospitals. The hospitals aren't anticipating the need to evacuate patients at this time, but one smaller hospital is going to move some COVID patients to another hospital in Brevard county.
DeSantis said everyone in Isaias' path "should have enough food, water and medicine for seven days" and said there is still time to get supplies.
7:53 a.m.: Hurricane Isaias has winds of 85 mph, approaching Florida later today.
Hurricane Isais remains a Category 1 storm sustaining winds of 80 mph. The hurricane's eye is near Andros Island Bahamas. Isaias is expected to move through the Bahamas today and near Florida tonight into Sunday.
Forecasts warn of a dangerous storm surge. Heavy rains are a main concern as Isaias nears the Florida coast. The storm is expected to run up the East Coast and impact the Carolinas, the Mid-Atlantic and the Northeast. Significant rainfall in the Carolinas and the major Northeast cities is expected.
ABC News' Alexandra Faul contributed to this report.